Semiconductor industry network news:On March 31, GSR semiconductor and northwest university physics high performance computing center officially signed a contract. Both sides will be committed to promoting the research project of energy efficiency performance of GaN IDC power in micro module data center.
Min Junhui, general manager of Shenzhen frontier science and technology R & D Co., Ltd., Professor Zhu Haiyan and Professor Zhou Bo from school of physics of Northwestern University attended the signing ceremony. Due to the epidemic, Ouyang Wu, Deputy Secretary General of China Communications Society, Chen Zhen, general manager of Xuzhou GSR Semiconductor Co., Ltd. and researcher Zhang Boju, Institute of electrical engineering, Chinese Academy of Sciences delivered speeches by video and witnessed the signing of the project.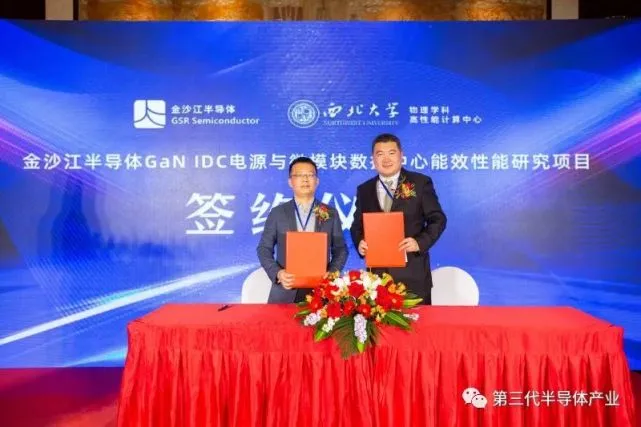 ▲Min Junhui, general manager of Shenzhen frontier science and technology research and Development Co., Ltd., signed a contract with Professor Zhou Bo of the school of physics of Northwestern University
It is understood that GSR semiconductor is a leading gallium nitride chip application, research and development and production enterprise in China. Through the localized supply chain, we promote the rapid development of fast charging, IDC power supply and electric vehicle power chips, and are committed to the mission of achieving global carbon neutrality with advanced technology. For the energy efficiency performance research project of GaN IDC power supply in the micro module data center signed this time, GSR semiconductor is the entity of Party A, and researcher Zhang Boju of the Institute of electrical engineering of the Chinese Academy of Sciences is the main person in charge of the technical development of the project.
GaN Systems, the global leader of gallium nitride power semiconductors, and Xuzhou GSR semiconductor recently jointly announced that in the field of Internet Data Center (IDC), they had successfully carried out the field test of gallium nitride (GAN) power supply application for the first time, which was an important milestone in the popularization process of GaN in the field of IDC power infrastructure. This test was carried out in the high-performance computing center of physics of Northwestern University. In the future, more data centers and supercomputing centers will be selected nationwide for cooperation and promotion.
The power supply participating in the test was designed in Beijing and used the technologies and chips of GaN Systems and Xuzhou GSR semiconductor company. The test was strongly supported by Hongguang semiconductor and Shenzhen frontier technology R & D company. According to theoretical calculation, the energy efficiency of the new power module is about 98% under 50% load, which is 4 percentage points higher than that of the traditional silicon-based power semiconductor power supply. This alone can reduce the total energy consumption of the data center by 10%. If the replacement of UPS power supply and refrigeration system in data center is promoted, the energy saving effect is expected to reach 20%.
According to experts from China Communications Society, as an important part of the new infrastructure, Internet data centers will play a major role in the upcoming digital economic transformation. It is estimated that in 2020, the power consumption of China's data centers will exceed 200 billion kwh, accounting for about 2% of China's total power consumption, the power utilization efficiency will be 1.49, the carbon dioxide emissions will be 135 million tons, and the carbon emission intensity will be 0.82, accounting for about 1.14% of the national carbon dioxide emissions. According to the 14th five year plan for the development of the digital economy, Chinese enterprises are required to abide by the principles of green, low-carbon and energy conservation, constantly promote green construction, accelerate energy conservation, and improve the utilization rate of renewable energy in Internet data centers.
Under the goal of achieving carbon neutrality, adopting new technologies for energy conservation and carbon reduction in Internet data centers can not only promote the green development of Internet data centers, but also help China reach the peak of carbon emissions by 2030 and achieve carbon neutrality by 2060. According to the recently released national computing network plan, China has approved the construction of eight national hub nodes and 10 large-scale data center clusters.
Omdia predicts that the overall compound annual growth rate (CAGR) of GaN power transistors used in data center power supply will be 66.5% from 2019 to 2024. For data centers, the power required for server operation often accounts for the "bulk" of operating costs. How to improve the energy efficiency ratio has become a key issue for modern data centers. In volume sensitive application fields such as fast charging, the server power supply will give better play to the advantages of high efficiency and low power consumption of gallium nitride.
In addition, the use of GaN power transistors to manufacture more energy-saving power supply power modules can provide a technical basis for the green and high-quality development of Internet data centers, thus supporting China's goal of carbon neutrality.